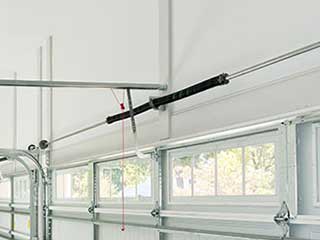 All garage doors, including the one in your home, rely on heavy-duty springs (typically torsion or extension) to operate the door. When one of your springs break, you'll need someone to safely and correctly replace the set of springs with high-quality products. Our technicians are the best for the job. Here's how we can help you.
The Best Technicians at Your Service
We are the most trusted garage door spring specialists in Lakewood. Our technicians know the ins and outs of the industry and know garage door systems like the back of their hand. Regardless of the scope of the job - whether it's a minor repair or a full-scale replacement that's due, our professionals will handle the issue with expertise and promptness.
Top-Quality Spare Parts
In addition, our company also stocks an extensive inventory of spare parts so that we can accommodate you in a single visit. We are proud to be working with some of the most reputable manufacturers across the US in order to deliver top quality straight to your door. What this means is that your door will be equipped with garage door springs that not only last longer, but work more efficiently, too.
Your Satisfaction Put First
Finally, with each spring repair and replacement service, our team at Garage Door Repair Lakewood will provide post-repair safety testing and inspection to make sure everything is working in correct order. Our technicians want what's best for you and don't want to compromise your convenience and safety with a shoddy service. That's why they'll make sure all hardware and working parts are working together well and are in good condition.
Our professional technicians have handled some of the most heavy-duty projects in more than a decade of their experience and will come up with a solution each time our customers call us for assistance. Get in touch today.
Some Expert Advice
Can I replace a broken garage door spring myself?
We believe that people shouldn't put limits on themselves. However, you should also be aware of the potential dangers and not put yourself at risk. When it comes to broken garage door springs, it's usually better to let a professional technician do the repairs or replacements. Apart from the fact that your garage door is very heavy and you don't want it falling down on you, the springs themselves can also be very dangerous. They're under a lot of tension and when they break they can whip around and seriously injure anyone who happens to be standing nearby.
How can I tell which type of garage door springs I have?
That's actually very easy. Look at your door from inside your garage. If you see two springs running parallel to the horizontal tracks, then you've got extension springs. If you see a metal bar stationed horizontally above the door, then on it you should be able to spot a torsion spring. Some door systems will use a combination of both types, but usually, only one will be present. Torsion springs are usually preferred when possible, due to their improved durability and flexibility, and their relatively lower risk status for when they break. Remember to let professionals repair, adjust, or replace your garage door springs when the need arises and do not attempt any DIY, for risk of injury.
You can also count on us for:

Bottom Seal Rubber

New Garage Door Keypads

Opener Adjustment

Bent Garage Door Track Repair