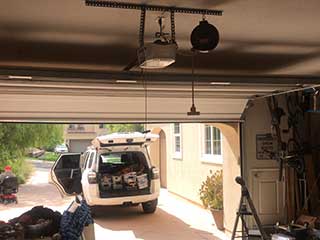 Our team at Garage Door Repair, Lakewood will work closely with you to come up with the best solution for your needs and budget. They are fully competent in servicing and sourcing virtually any garage door product under the sun. This means you can rest assured that the technicians who arrive at your door will be able to assess, identify, and tackle your problem in no time, not compromising on your satisfaction in the slightest. Here's what our services entail.
Emergency Broken Spring Replacement
Our team understands time is of value to you. Our customers often call us with tight schedule requirements when their springs break and most of the time we're able to accommodate them on the same day and replace the springs in a single visit. Whether your system utilizes torsion or extension springs, have trust in our technicians who carry more than a hundred of variations of springs to fit in your mechanism.
Full-Scale Opener Replacement
Should you need a comprehensive opener replacement service, look no further than our highly-trained team of technicians. They'll work closely with you to determine the right make and model for your needs and budget, dismount and remove the old unit and replace it with a new opener to work in conjunction with your door. Our company receives a range of modern products from top US brands, including LiftMaster, Linear, and Chamberlain, to ensure your piece of mind.
Broken & Dented Panel Repair
Have you had an accident resulting in your garage door panel(s) suffering structural damage? In most cases, our team will be able to replace the damaged panels with correct pieces to match your existing door design, without needing to replace the entire door.
We repair, service, and install all makes and models of doors and openers on the market. Give us a call today and we'll find the best way to go forward.
Some Helpful Tidbits
Why is my garage door reversing?
A garage door that keeps reversing could be the result of your door's photo eye sensors no longer being properly aligned. Locate the sensors at the bottom of each side of the door and align them again. Similarly, the sensors could be covered in dirt. Wrap a soft cloth around your finger and gently wipe the dirt away.
My garage door opens a little then stops. Why is that?
When your door opens a few or so inches and then ceases, there could be a problem with the opener or some of the other hardware or electrical components. Try and open and close the door manually. If the door moves smoothly then a slight adjustment of the door's travel limit feature is all that is required. If there's significant resistance, check the tracks and springs. Don't forget to also examine the safety sensors to ensure they're not misaligned.
Looking for more? We also offer:

Garage Door Off Track Repair

Garage Door Weather Stripping

Opener Sensor Replacement

Emergency Garage Door Service