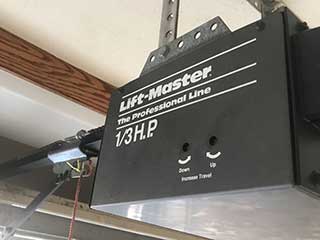 You should be able to count on your door to open and close properly each and every time! Rather than tempt fate, let our experts take care of your opener and keep it in the best shape possible. That way there's no risk of it suddenly refusing to work at all when you need it most.
Thorough Safety Mechanism Testing
It's hugely important for the safety of your family, particularly any kids or pets, to ensure that the safety mechanism is working properly each and every time. This is what causes the door to reverse should something be under it while closing to prevent accidents. The best way to confirm this is with our professional safety mechanism testing! Our team will perform comprehensive testing to make completely sure that the safety mechanism is functioning and your family is safe.
High-Quality Opener Repairs
Have you noticed worsening troubles with your garage door such as it reversing suddenly, jerking violently, or making a lot of noise? All of these are signs that the opener is in need of repair. That's where our company can help! Using our years of experience and the best equipment and parts, our team will thoroughly inspect your opener and related components to find the source of the problem and address it with the finest solution. Our professionals can repair or replace any parts required to get it working like new again and avoid it breaking down completely as it would if these problems were ignored!
Quick And Easy Opener Replacement
Sometimes your opener may simply be too old to work correctly any longer, or it's time to upgrade to something quieter! In either case, our experts can lend a hand. Our company works with all of the most popular brands like Linear and Genie, so our team will have no problem putting in the best opener for your needs.
Call Us Today
Why continue struggling with an opener that's not working like it should? Contact Garage Door Repair Lakewood now for assistance. You won't regret it!
Answers To Common Questions
How does a garage door opener work?
When your opener receives a signal from the controls, it uses its electric motor to spin a system of gears. These gears pull on the drive system, which in turn releases the springs and helps them raise the door. When the door reaches its open position, it locks in place there. When you send the signal to close the door, the opener does the opposite by pulling the door out of its open position and letting the door close.
What garage door opener is best when comparing the three main types?
Each type of garage door opener offers different advantages and has different drawbacks. Screw drive openers are powerful, easy to maintain, and don't often break down. They are also expensive and make a lot of noise. Belt drives are soundless, last a long time, and are fairly strong, but can be high maintenance. Chain drives are somewhat noisy and don't last all that long compared to the others, but are cheap and user-friendly.
Need more? We also provide:

Noisy Doors Silenced

Garage Door Transmitter Repair

Opener Clicker Repair

New Garage Door Installation